Alchemy of Punk

Punk Opera
a 3-channel video installation and live performance created by Aneta Panek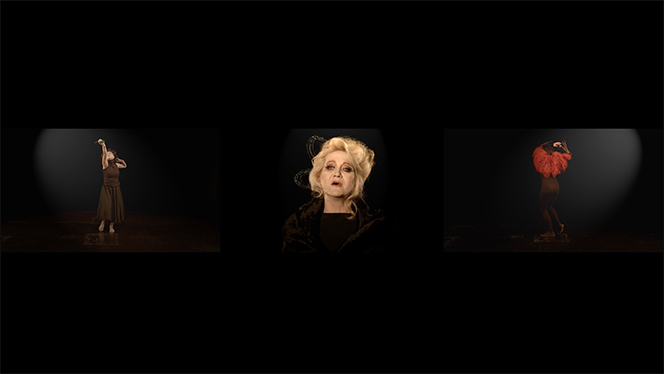 Alchemy of Punk is an eclectic video installation and live performance composed of classical music, baroque songs, mediaeval madrigals, punk music, industrial rock, cabaret and chansons; a groundbreaking extravaganza, bringing together the greatest voices of classical opera, punk and industrial rock in an explosive spectacle, melting together theatrical and musical experience, video installation and live performance. The Punk opera crossover is constantly crossing the lines between high art and subculture, deploying transgressions regarding genre, gender, time and age, the exploration of interspaces between dance, music, theater, video and the melting together of classical music with punk into an eclectic composition, in search of a possible genealogy of punk. It is about a heritage of subversion, rebellion and freedom, discovered and transmitted in many forms throughout art history.
Featuring onscreen the star soprano Simone Kermes, along with underground diva Mona Mur and the legend of industrial music En Esch (exKMFDM), FM Einheit, acclaimed industrial and electronic musician, and former founding member of the Einstürzende Neubauten, the French chanteuse Zazie de Paris, together with brilliant German bariton Max Raabe, the Swiss conceptual artist Dieter Meier, founder of the famous electro-pop duo Yello and many more. All these artists have one thing in common: strict uncompromisingness, lust for transgression, and claim for authenticity.
Aneta Panek – Concept, Artistic Direction & Camera | Diana Näcke – Montage & Camera | Ulf Scheel – Sound | Mona Mur – Sound Mix | Patricia Walczak & Misa Namura – Costumes | Yvonne Joseph & Pascale Jean-Louis – Make-up | Jan Bek – Production | Stefan Wolf, Marcelo Schmittner & Piotr Mordel – Lights | Tilman Agueras – Technics
Musicians & Performers: Simone Kermes – Soprano | Daniel Heide – Piano | Matthias Eichhorn – Bass | Jan Roth – Drumms | Mona Mur – Vocals | En Esch – E-Guitar and Vocals | FM Einheit – Electronic Music | Zazie de Paris – Vocals | Gerhard A. Schiewe – Accordeon | Max Raabe – Vocals | Takushi Minagawa – Countertenor | Rieko Okuda – Synthesizer | Dieter Meier – Guitar & Vocals | Gina Schulte Am Hülse – Vocals | Lutz Fahrenkrog-Petersen – Bass | Mike Vamp – Guitar | Thomas Pfalz – Saxophone & Harmonica | Emanuel Hauptmann – Drumms | Parisienne Sasazuka – Drag Queen Striptease | Anna Bloda – Burlesque Performance | Hope Fukiko – Angel | Kostek Szydłowski – Devil | Susana Abdul Majid – Dervish | Andrzej T. Wirth – the false Prophet | Yoriko Maeno – Dance | Meritxell Campos Olivé – Dance | Martin Buczko – Dance
PUNK OPERA – TIMELINE
Upcoming presentations
September 27 – November 25, 2018
Presentation of the Punk Opera in VENICE in the framework of SPACES – Surfaces International Art and Architecture Festival organized by Its Liquid Group.
SPACES is the third appointment of Surfaces International Art and Architecture Festival that will be hosted in Venice, at Palazzo Ca' Zanardi, from September 27, 2018 to November 25, 2018, and at THE ROOM Contemporary Art Space, from September 28, 2018 to November 25, 2018, during the same period of the BIENNALE ARCHITETTURA 2018 – 16th International Architecture Exhibition, with a rich program of different events until November 2018. 
October 13 & 14, 2018
Presentations of Alchemy of Punk, at the Jazz Institut, University of Arts Berlin.
Beginning of 2019: Art Train / "Kulturzug Berlin Breslau" – screenings of the Punk Opera during the train journey between Berlin and Breslau.
Previous presentations
May 11 & 13, 2018 
Premiere and first screenings of the Punk Opera, accompanied by live performances of the participating artists at the former silent film theater Delphi, Berlin
January 11 & February 12, 2018 
Presentations of the Punk Opera at the University of Arts Berlin
December 29, 2017 
Private view of the Punk Opera at the Rifugio Lagazuoi, Provincia Cortina d'Ampezzo, Italy
December, 12 & 13, 2017
Bolton University of Arts, UK – Presentation of the Punk Opera in the framework of 4. International Punk Scholars Conference and Post Graduate Symposium www.punkscholars.net
May 25, 2017
Show @ the Nuyorican Poets Café, New York
www.nuyorican.org
May 20, 2017
Show @ In Progress @ Watermill Center
As an outcome of the artist residency at the Watermill Center, an invitation of Robert Wilson.
www.watermillcenter.org
March 3, 2017
Alchemy of Punk, at The Martin E. Segal Theatre Center, City University of New York, Spring 2017 Season.
www.thesegalcenter.org