CV
Aneta Panek – film maker & performance artist
Works in-between performance, visual arts and film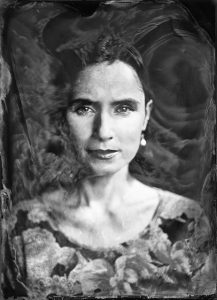 Aneta Panek studied art history at the University Paris 4 Sorbonne, where she particularly worked on the questions of transmediality in the arts, the uncanny in the media, and on artistic exchanges between the three countries: France, Germany and Poland. She continued her studies at the Dresden University of Technology and at the Free University of Berlin, where she studied German language and literature as well as theatre. She then carried on her academic education at the German Forum for Art History in Paris, where she worked for the interdisciplinary research project "Ownreality", as well as at the University of Arts Berlin, Institut for Time Based Media and Variantology, where she is currently PhD candidate. She realized numerous films and television reports, among others for the German TV channels RBB, WDR and the Deutsche Welle. Her documentary "My Heaven is Full of Music" (RBB/WDR, 2009) was enclosed in the collection of the Museum Yad Vashem in Jerusalem. From 2007 until 2012 she was responsible for the artistic program of the Polish Institute in Berlin, she curated numerous exhibitions and artistic projects, among others of Józef Robakowski, Karsten Konrad, Jarosław Kozłowski and Alicja Kwade. In 2013 and 2014 Aneta Panek curated, together with philosopher Clara Pacquet, a film program at the Club of Polish Losers in Berlin, entitled: GEIST & GESPENSTER (Ghosts & Apparitions), monthly screenings exploring the phenomenon of film as a spiritual and eerie process. 2015 followed another film program, created together by Aneta Panek and Clara Pacquet: LA LOGE NOIRE (The Black Loge) at the Babylon Kino in Berlin; a selection of movies exploring the magical dimension of cinema and questioning the very nature of cinematographic presentation. From 2015 on, Aneta Panek dedicated herself to experimental film and performance art. Her experimental short film "Tarot Reading" (2015) has been selected for various art film festivals around the world, among others the New York Independent Film Festival, Berlin Short Film Festival, and Peach Moon Art Festival in Tokyo. Her experimental film-collage "Lullaby for a Witch" (2016) run at the List í Ljósi Festival (Art by Light Festival) in Seyðisfjörður, Island, as well as at the Nasty Women UK Exhibition in London, and recently at the Film as Art exhibition organized by Ewa Partum at the Galeria Teatr Studio in Warsaw. Her experimental short movie "Czarymary" (2016) has been presented in December 2017 at the LGBTQ film night at the Flying Dutchman, London. In 2017 Aneta Panek was invited for an artist residency at Robert Wilson's Watermill Center, where she staged her Punk Opera, a work she has been developing over the last three years within the framework of her artistic PhD. The piece was also presented at the Nuyorican Poets Café in New York, as well as at the Theater im Delphi in Berlin (11 & 13.05.2018), where it had official premiere in its accomplished version as a 3-channel video installation mixed with elements of live performance. It was then shown in Venice at the Palazzo Ca'Zanardi within the framework of a collective exhibition organized by Its Liquid Group, "Spaces – Surfaces International Art and Architecture Festival" (27.09-25.11.2018). Further artist residencies followed, counting the "Artists Lock-In" on Jersey Island, with Sue Hill, artistic director of the Wild Works, an international theatre company working with the landscape, then recently a directing assistance and internship on the production of Leonard Bernstein's "Candide", directed by Barrie Kosky, at the Komische Oper Berlin, as well as on the new production by Robert Wilson and Coco Rosie, "The Jungle Book" by Rudyard Kipling at the Grand Theatre de la Ville de Luxembourg.
Aneta Panek has been working on her numerous projects with the greatest artists from different domains; classic opera, subculture, dance, chanson, electronic music – among others with: Max Raabe, Simone Kermes, Dieter Meier, Zazie de Paris, FM Einheit, Mona Mur, En Esch, Yoriko Maeno, Martin Buczko, Luciano Castelli and many others.
Aneta Panek lives and works as a filmmaker, performance artist and media researcher in Berlin. She is a member of the Society for Artistic Research.
She currently works on a practice-based PhD dissertation entitled "Alchemy of Punk. Transmutation, Subversion and Poetry in Punk Avant-Gardes.", with Prof. Dr. Siegfried Zielinski, former rector of Karlsruhe University of Arts and Design as scientific supervisor, and with Alain Fleischer the director of the FRESNOY, Studio national des arts contemporains (Tourcoing, France), as artistic supervisor. Her work, based on "other knowledge" and artistic research, is about the necessity of visualization and associative speculation in formulating and deconstructing theories and questioning reality. Her particular interests are alchemy, transmutation, subversion, and rebellion, as means of self-discovery. She is particularly interested in challenging the existing norms of performing knowledge.